Zweck
Anlegen und Matching von Patienten rein auf Basis von Bloomfiltern (PPRL) für einen gegebenen Geltungsbereich (Studie und Standort). Sofern noch nicht vorhanden, wird eine valide Ziel-Domäne automatisch angelegt. Rückgabe der generierten Pseudonyme (z.b. DIC-PSN(s)) als Params.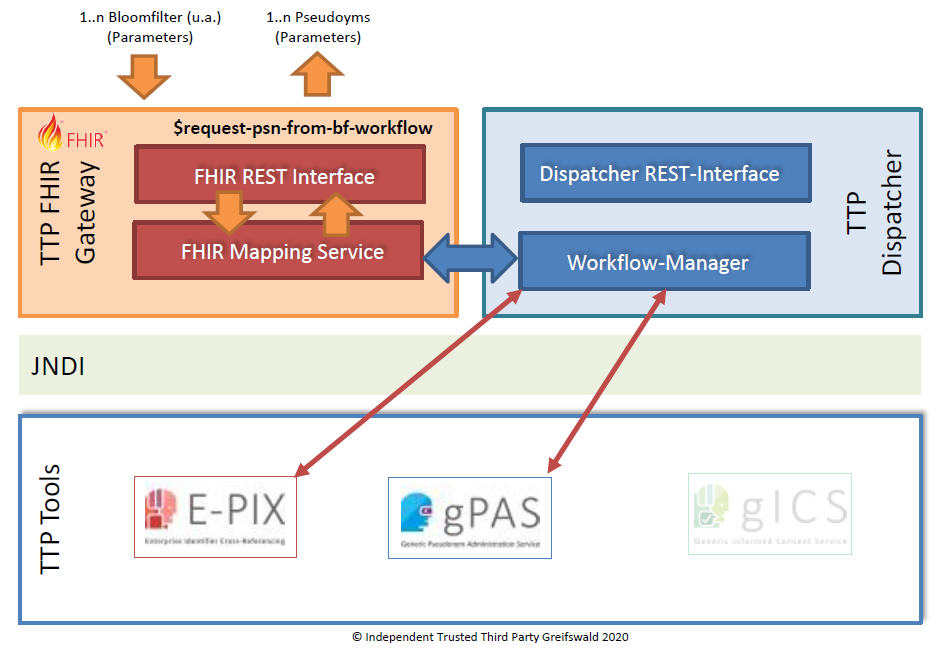 Voraussetzung
Die spezifizierte Studie muss im Zielsystem bekannt und angelegt sein.
Die übermittelten Bloomfilter müssen valide sein.
Der spezifizierte API-KEY muss valide sein und über die nötigen Rechte zum Aufruf der Funktion verfügen.
Die standortspezifische Domäne (target) muss im Zielsystem bekannt und angelegt sein.
Aufruf und Rückgabe
Die bereitgestellte Funktionalität kann per POST-Request aufgerufen werden. Die erforderlichen Angaben werden per POST-BODY in Form von FHIR Parameters übermittelt.
<HOST>:<PORT>/ttp-fhir/fhir/dispatcher/$requestPsnFromBfWorkflow
Der Funktionsaufruf liefert eine Parameters-Ressource bestehend aus multiplen Multi-Part-Parametern zurück.
The resource cannot be rendered.
Im Erfolgsfall wird jeweils ein pseudonym-bf-Parameter zurückgegeben mit folgenden Teilen:
bloomfilter = der zu für PPRL erforderliche Bloomfilter (Teil des Requests)
target = die (erzeugte und) verwendete Pseudonymisierungsdomäne
pseudonym = das fTTP-seitig erzeugte Pseudonym.
Im Einzel-Fehlerfall wird jeweils ein error-Parameter zurückgegeben, ebenfalls mit den Teilen bloomfilter und target sowie einem error-code anstelle des Pseudonyms.
Im vollständigen Fehlerfall wird einer der folgenden HTTP Statuscodes in Verbindung mit einer OperationOutcome-Ressource zurückgegeben:
400: fehlende oder fehlerhafte Parameter
Beispiel
Beispielhafter Request-Body (orientiert am Beispiel der fTTP-NUM Use Cases):
<

Parameters 

xmlns

=

"

http://hl7.org/fhir

"

>


    

<

parameter

>


        

<

name 

value

=

"

study

"

 />


        

<

valueString 

value

=

"

num

"

 />


    

</

parameter

>


    

<

parameter

>


        

<

name 

value

=

"

bloomfilter

"

 />


        

<

valueBase64Binary 

value

=

"

SWNoIGJpbiBlaW4gQmxvb21maWx0ZXIuIFZlcnNwcm9jaGVuLg==

"

 />


    

</

parameter

>


    

<

parameter

>


        

<

name 

value

=

"

target

"

 />


        

<

valueString 

value

=

"

dic_erlangen

"

 />


    

</

parameter

>


    

<

parameter

>


        

<

name 

value

=

"

apikey

"

 />


        

<

valueString 

value

=

"

abcdef12345

"

 />


    

</

parameter

>




</

Parameters

>



Eine beispielhafte Rückmeldung (orientiert am Beispiel der fTTP-NUM Use Cases) kann wie folgt aussehen:
<

Parameters 

xmlns

=

"

http://hl7.org/fhir

"

>


    

<

parameter

>


        

<

name 

value

=

"

pseudonym-bf

"

 />


        

<

part

>


            

<

name 

value

=

"

bloomfilter

"

 />


            

<

valueBase64Binary 

value

=

"

SWNoIGJpbiBlaW4gQmxvb21maWx0ZXIuIFZlcnNwcm9jaGVuLg==

"

 />


        

</

part

>


        

<

part

>


            

<

name 

value

=

"

target

"

 />


            

<

valueIdentifier

>


                

<

system 

value

=

"

https://ths-greifswald.de/gpas

"

 />


                

<

value 

value

=

"

dic_erlangen

"

 />


            

</

valueIdentifier

>


        

</

part

>


        

<

part

>


            

<

name 

value

=

"

pseudonym

"

 />


            

<

valueIdentifier

>


                

<

system 

value

=

"

https://ths-greifswald.de/gpas

"

 />


                

<

value 

value

=

"

dic_1H51T

"

 />


            

</

valueIdentifier

>


        

</

part

>


    

</

parameter

>


    

<

parameter

>


        

<

name 

value

=

"

error

"

 />


        

<

part

>


            

<

name 

value

=

"

bloomfilter

"

 />


            

<

valueBase64Binary 

value

=

"

hHjklOllOjhgFGFzzghikxvb21maWx0ZXIuIFZlcnNwcm9jrtfg==

"

 />


        

</

part

>


        

<

part

>


            

<

name 

value

=

"

target

"

 />


            

<

valueIdentifier

>


                

<

system 

value

=

"

https://ths-greifswald.de/gpas

"

 />


                

<

value 

value

=

"

dic_erlangen

"

 />


            

</

valueIdentifier

>


        

</

part

>


        

<

part

>


            

<

name 

value

=

"

error-code

"

 />


            

<

valueCoding

>


                

<

system 

value

=

"

http://hl7.org/fhir/issue-type

"

 />


                

<

code 

value

=

"

not-found

"

 />


                

<

display 

value

=

"

Not Found

"

 />


            

</

valueCoding

>


        

</

part

>


    

</

parameter

>




</

Parameters

>